Over the past few years, TikTok has emerged to be extremely powerful especially amongst generation Z. If you do not know, Generation Z are those people born after the year 2000. The app is most popular among the younger generation. However, this app is also being used by older people such as businessmen looking for opportunities regarding social media marketing. You may have heard about this app a lot of times, but you might not have a full idea of what it is about. In this article, I will go through what TikTok is and how TikTok will continue to grow. Let us start.
What is TikTok?
TikTok's video creating and sharing features (Source: Responsival)
Everyone must have heard of TikTok even if they have not used it yet. But, not many know what exactly is TikTok designed for.  TikTok is a mobile video-making and sharing app that allows people to create short videos ranging between 6 to 15 seconds. One can then share this video with his friends or it may even go viral.  Do you remember a similar app called Vine? If yes, then just take TikTok as something similar to Vine. However, Vine only allowed 6 seconds long videos. A Chinese company ByteDance is the name behind this app. It was launched in 2017 as a merger of two Chinese apps, Douyin and Musical.ly. Within no time, TikTok gained immense popularity and there are predictions that it will continue to grow.
How Does TikTok Work?
Let's have a quick look at how TikTok works. Its prime function is to create videos that are capped out at 15 seconds. One can merge these short videos to create a 60-second long video. There are a lot of cool tools that ease video making and enhance content quality making it fun. These include editing effects, filters, and background music. People share these videos while at the same time scroll through the videos created by their friends. This platform has also led to the creation of many short viral dance videos and challenges.
Growing trends on TikTok (Source: Digital Information World)
In addition to this, another feature that adds to the app's popularity are the interactive video features. Besides allowing the users to like, comment, and share content, it also enables them to share videos as direct messages, SMS, or other apps. This has resulted in very high engagement figures. As per the Influencer Marketing Hub recent report, TikTok succeeds in beating other mobile apps in terms of engagement levels.
Moreover, it has also been reported that TikTok is also good at keeping its users intact. The average app time of TikTok users is 45 minutes per day. This is because of the notification system of the app that notifies that users when there is a new video post by their friends. If you compare it with other social media apps, TikTok has a unique feel which is sensed by its users. The built-in artificial intelligence automatically shows content as per user preferences. This has increased the popularity of TikTok and will continue to grow the app's revenue in the future.
How is TikTok growing?
TikTok is Generation Z's app. It understands what its generation wants and continues to provide it in order to keep the followers intact. According to app demographic analysis, people with the age between 16 and 24 make 41% of the total TikTok users. Initially, TikTok gained popularity through the lip-synced song videos but now it has largely turned into an international show. It provides people with the opportunity to create their own content and become popular. With all these unique features along with constantly supporting content creators, TikTok has succeeded in attracting 500 million active users. It is the 9th most popular mobile app on the social media trend board. Most of the TikTok audience is from the US, India, and China.
Most downloaded apps in the US in 2020 (Source: Mediakix)
The growth of TikTok
If one has to describe TikTok's growth in one word, it would be "explosive".  In only a period of 3 years, the app has emerged as a strong competitor of social media giants such as Facebook and Instagram. These apps are constantly revising their features to keep their audience intact. Though TikTok was developed in China, it quite rapidly expanded outside of China. One reason is the purchase of Musical.ly by ByteDance which was already popular in the US. This was indeed a strategic move that led to its exponential growth.
In the initial 2 years from 2017-2018, the number of people downloading TikTok increase by 419%. In 2018, TikTok was one of the most downloaded apps on iOS in the world. By the end of the year, its downloads surpassed WhatsApp, YouTube, and Instagram. TikTok became the first Chinese app that was most downloaded in the US. In 2019, the growth of the app further increased with a 6% rise in downloads. It also became the most downloaded app of the year on both iOS and Android. According to Apptopia (an app's analytic's company) reported in the first month of 2020 that TikTok has finished its "best quarter ever". The major reason being the in-app purchases and microtransactions. In 2021, there are predictions that TikTok will continue to grow and hit 1.2 billion people globally.
TikTok in the News
TikTok has not been a stranger to controversy. Commentators in the USA worry that this app has a strange connection with the Chinese government. However, TikTok itself denies such speculations and says that they do not have connections with the leadership present in Beijing. It is a possibility that TikTok censored the posts related to the protests in Hong Kong. Furthermore, just recently US army was asked not to use TikTok due to security reasons. India has also raised the same concerns regarding the affiliation of TikTok with China and the app was banned for a short period of time. The ban was later on lifted but since a lot of growth of the app is occurring in India, there are concerns regarding the future prospects.
The Future of TikTok
In the immediate future, it is expected that TikTok will go public bringing in more investors. This will be a huge step for the app and will also stimulate growth. Benoit Vatere, CEO of Mammoth Media predicts that TikTok will grow and become the No. 1 app for teens and will bypass Snapchat and Instagram. Seeing the growing awareness and numbers it seems that the predictions will become true. Tom Jarvis of the Wilderness agency that TikTok will become more of a leader and will establish itself more than Facebook.
It seems the majority of the growth of TikTok will take place in India. As per a report by SensorTower, it suggests that a huge number of downloads took place in India and are to be continued. Since India is a hugely populous country it will serve as a great platform for the continued growth of the app. It will also provide a large market in the coming future. Moreover, TikTok is also aware of these facts and is already taking steps such as supporting 15 different Indian languages. A threat that TikTok faces in its future growth is that this app might not get banned especially in the USA and India. Since both the governments of India and the USA have suspicions and have been eyeing the app.
Despite the concerns, there is a promising future for TikTok. Reports suggest that TikTok will have about 50 million users in the USA by 2021. It is expected that the user base in the US will increase by 21.9%. In 2021, 21.6% of social media users will be from the US and more than one in five will be using TikTok once a month. The growth is projected to increase in coming years with around 52.5 million users expected to be from the USA. Check more about TikTok future predictions here.
Will the fate of TikTok benefit Facebook and Snapchat?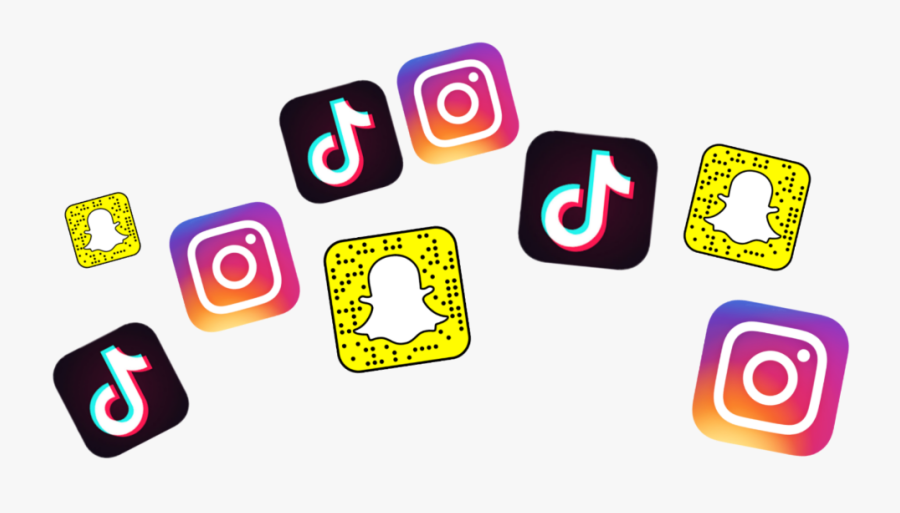 Image source: ClipartKey
In the latest survey by Piper Jaffray, "Taking Stock with Teens" it was found that 85% of the teens in the USA are regularly engaging with each other on Instagram followed by 82% on Snapchat. 62% are connecting through TikTok, 41% on Twitter, and only about 34% on Facebook. If TikTok gets banned many people will move to the reels feature of Instagram which is like TikTok or to Snapchat allowing users to share TikTok-like videos on its interactive Snap Map. These benefits might not be significant for Facebook which is more popular among the old users. It might not appeal even to those who are using WhatsApp as they want to just send simple messages instead of watching short musical videos.
Conclusion
People are now spending more of their time on TikTok than on Facebook. People generally spend more time on their mobile phones than watching television. Over 1 billion videos are being watched on TikTok on average per day and this platform continues to grow exponentially. Although I doubt that it will surpass Instagram and Facebook but one cannot also ignore its rapid growth in such a small amount of time and its promising market potential. I hope you now know what TikTok is and how TikTok will continue to grow.