An incredible increase has been seen in the number of Tik Tok followers over this past year. One major reason has been the recent pandemic which has shut down life completely. The lockdown and quarantine measures as an attempt to prevent virus transmission completely restricted people's outdoor activities. Therefore, they searched for some in-home means of entertainment and passing time. People spent hours on Tik Tok aimlessly scrolling through the videos. Among these days, a series of new social media trends rapidly became popular. One such trend has been the Tik Tok dance challenges which became viral in a short time. In this article, some popular Tik Tok dance videos have been listed. This article will help the readers to get an answer to the frequently asked question i.e., what is the most popular Tik Tok dance?
One can consider dance videos and challenges as one of the most loved features of Tik Tok.  I remember that in the initial days of the launch of Instagram, photos of latte art were the currency of the app, increasing its audience.  In the same fashion, short dance videos ranging from 15 to 30 seconds have become the currency of Tik Tok. The introduction of this unique feature has various advantages. Most importantly, it has provided emerging choreographers an opportunity to present their craft, their way. Not only this, some renowned artists of the music industry such as Hialey and Justin Bieber are also doing this.
Recognizing sound and searching videos on this basis is an easy and widely used way of finding dance videos of Tik Tok. Dances usually do not have names, therefore for listing purposes, I have referred them by the song they are scored to, or an official name in cases where there exists one.
Some Popular Dances on Tik Tok
Here is the list of the six most popular dance videos on Tik Tok which became viral in days.
1. The "Renegade" by K-Camp
It is undoubtedly one of the most viral Tik Tok dances. With its users surpassing 29.7 million, one can easily perceive the extent of its popularity among Generation Z. It has a fast-paced dance choreography that is hard to completely master. However, millions of Tik Tok followers have accepted these challenges and gave it an attempt. Moreover, the popularity of this dance also increased the number of new Tik Tok members. As the dance video was circulated on other social media platforms, it urged many to download Tik Tok.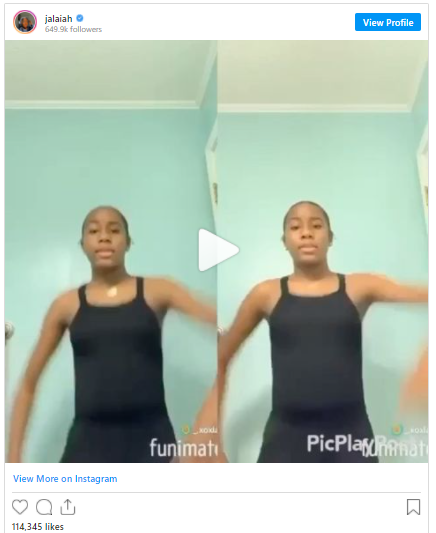 "Renegade" dance video by Jaliah Harmon (Source: Instagram)
This video was originally created and produced by Jaliah Harmon in September 2019. She is a 14-year-old Atlanta-based teen fond of choreography. Initially, it gained popularity among middle and high school young teens. The dance has been created on the song Lottery by K-Camp. Within no time, the dance video became trending on social media. Now, Harmon's dance is included as a dance challenge in talent hunt shows and at school pep rallies.
2. The "Cannibal" by Kesha 
Songs by Kesha never go out of fashion. Their popularity does not fade away with time. This has been proven by the fact that Kesha's song Cannibal which was released in 2010 is currently one of the most viral videos on Tik Tok.  This is a sudden and unexpected comeback of a 10 years old song. This dance was first created by Briana Hantsch, a 14-year-old belonging to Illinois. Soon after the release of this video on Tik Tok in February, the video received more than 52 thousand likes.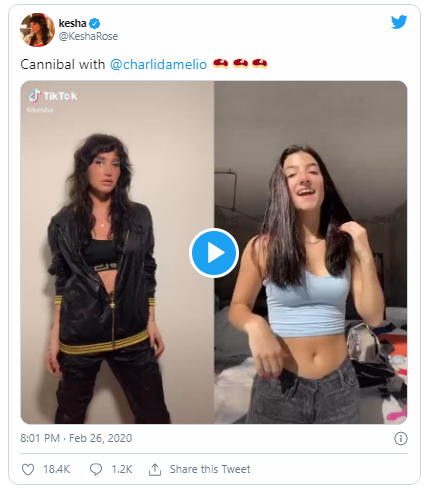 "Cannibal" dance video created by Briana Hantsch (Source: Twitter)
In addition, more than 9 million users have recorded their attempts on this dance including the Tik Tok leading stars such as D'Amelio and Addison Easterling. It is a pretty cool and fun dancing video that Briana has shot in her bedroom. She has smartly choreographed her moves based on the song lyrics which is one prominent reason for its popularity.
3. The "Say So" by Doja Cat
This video has broken the records of popularity on Tik Tok. It has been trending on the app rating graphs. A teenager from Alabama named Haley Sharpe visioned and executed the dance moves. Further, in the caption, she mentioned Doja Cat and expressed her dream to come in their upcoming music video. Once the dance video was published on Tik Tok, more than 16.9 million users attempted it. This also increased the fans of the Doja Cat song. Owing to the immense public attention, which Haley's video received, Doja Cat paid their acknowledgment by inviting her for their music video. It was launched on February, 27. Following the viral video, the number of Haley's Tik Tok likes increased to 9.23 million while her Instagram and Tik Tok followers grew to 5.3 thousand and 1.2 million respectively.
"Say So" dance video created by Haley Sharpe (Tik Tok)
4. The "Savage" by Megan Three Stallion
Megan Three Stallion has been known for her confidence and freestyle. Her popular creations include the "Hot Girl Summer" and "Captain Hook" which have been the favorite songs of many youngsters. "Savage" is another recent top-hit song by Megan which has gained more popularity on Tik Tok. The credit goes to none other than Keara Wilson. She has brilliantly reflected Megan's style in her dance video. It demonstrates similar confidence and is completely in sync with the lyrics. Moreover, many Tik Tok stars have attempted this dance challenge. The choreography by Keara has been widely appreciated, be it the front-facing claps or the hip sways or confident body rolls. The audio background of Megan's "Savage" has been a part of more than 26.8 million video clips on social media platforms.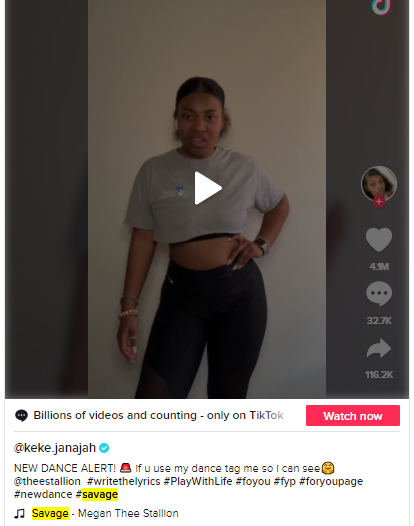 "Savage" dance video by Keara Wilson (Source: Tik Tok)
5. The "Supalonely" by BENEE
New Zealand-based BENEE's recent song "Supalonely" featuring Gus Dapperton has developed a high fan base. However, there has been a rapid surge in the people admiring this song after the release of a Tik Tok dance video in 2020. This has been created as a real dance video instead of a meme. The creator of this dance video is an emerging Tik Tokker, Zoifishh. She had no famous dances to her credit earlier but this one attracted a large audience. Social media influencers including Charli D'Amelio and Addison Rae have also attempted the Supalonely dance challenge. More than 8.8 million users have reproduced this dance video.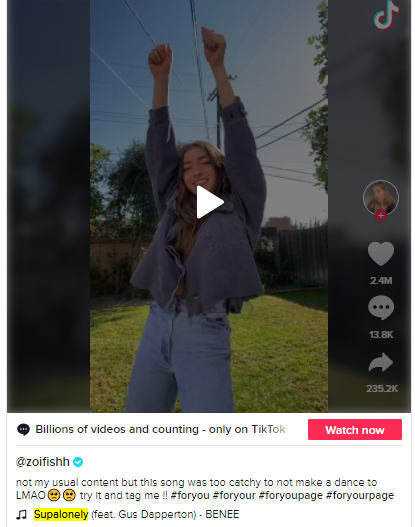 "Supalonely" dance video created by Zoifishh (Source: Tik Tok)
6. The "Out West" by Travis Scott
This is one of the simplest and cutest dance videos on Tik Tok. One can attribute its popularity to the involvement of unpretentious and natural dance moves. The creation of this simple, fun dance video only required some randomly choreographed hand and hip moves.  A young Tik Tokker, Nicole Bloombgarden, from Richmond, Virginia is the name behind this dance video which got viral within days. The song "Out West" was composed by Travis Scott in the last month of 2019. Bloombgarden presented her idea behind this in these words, "The easier it is to do, the more people are gonna' do it."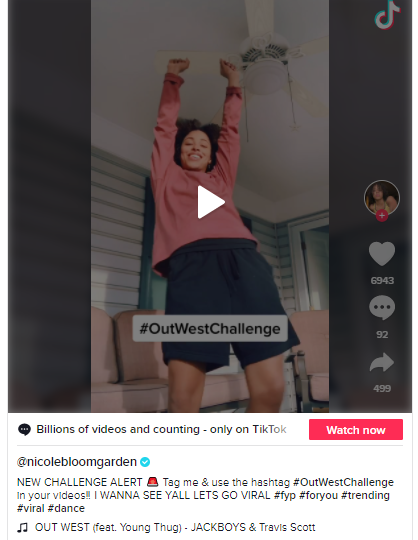 "Our West" dance video by Nicole Bloombgarden (Source: Tik Tok)
After posting this dance challenge, Bloombgarden encouraged people to attempt it as well as publically admiring those who tried it. She also asked them to tag her in the challenge video. More than 11 million users have tried attempting this dance including Emma Chamberlain and David Dobrik.
Conclusion
Tik Tok has been a constant means of entertainment in the time of anxiety and pandemic. Where all the life sectors were badly impacted by the health emergency and social distancing measures, Tik Tok videos were a constant source of fun. The short dance challenge videos on Tik Tok have become a new means of social connectivity and mutual enjoyment. In this article, I have listed some most popular dance videos on Tik Tok which have dominated the app rating graphs. If you have not tried any of these challenges, I suggest you attempt one. Have a good time enjoying and dancing!