About this item
【Dinosaur Toys For Kids 8-12】-There is a T-REX inside. This perfect and realistic dinosaur kit can fully satisfy the exploration of children, every time dig a dinosaur it is a pleasure and excitement.

【Cultivate Operational Ability】-The fun of digging dinosaurs is not just the digging process. The excavated bones need to be cleaned and assembled, which can not only improve the child's mobility, but also improve the child's memory and increase the baby's self-confidence.

【Archaeological Excavation Of Dinosaurs】-Let children learn the fun and function of archeological excavations by tapping, brushing, and shovel, and training their senses. Understanding more about dinosaurs and understanding nature is of great teaching significance.

【Environmentally Friendly And Safe Material】-Realistic digging dinosaur fossil toy, made of durable, BPA-free vinyl-based. Non-toxic plasterboard. This creates a realistic dinosaur model set. Hours of worry-free games for children.

【Perfect Gift For Children】-Toy Gift This dinosaur character toy set is very suitable as an educational toy that stimulates imagination and creative thinking. Each dinosaur is full of adventure and playfully stimulates imagination. In addition, this dinosaur toy set can also be used as decoration in the room.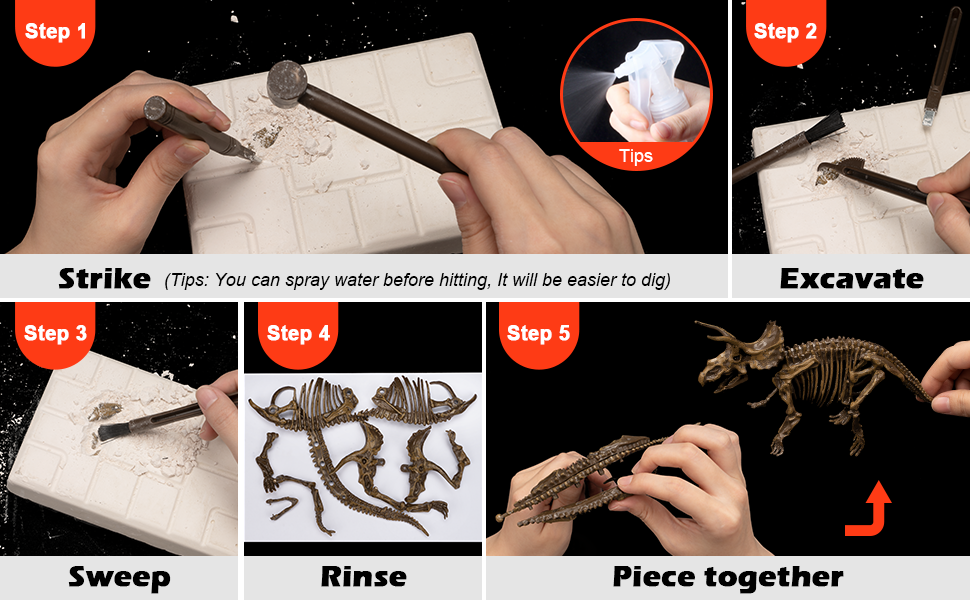 Let kids learn dinosaurs and prehistoric knowledge in easy games.
High-tech manufacturing, realistic details, and long life
Child-friendly, safe, 100% non-toxic plastic and stucco
Five different dinosaur models: T-REX, Triceratops, Mammoth, Stegosaurus, Brachiosaurus(random)
Product specifications: 22.5 x 19.2 x 5.6 cm,
Weight: 540 grams
Package Contents:
1 x hammer
1 brush
1 x chisel
1 x drywall
Product kit includes: 1 * hammer, brush, chisel, and gypsum board.