Note: As an Amazon Associate, We earn from qualifying purchases.
With youtube channels like Outdoors Weekly and DALLMYD getting popular, there is a rise in curiosity about the sport of Magnet Fishing and the Best Magnet Fishing Finds Ever.
Magnet fishing always seems like something straight out of the all-time-favourite Discovery Channel. The sport (as I like to call it) is well suited to be aired on that television. It is a hobby of those who have an interest in the environment and the hunting aspect of it. We all have, at some point of time in our lives dreamt of going on treasure hunts.
This hobby is also known as magnetic fishing. It is fishing in water bodies to search for ferromagnetic objects. They can be easily pulled with the help of an extremely strong neodymium magnet. This magnet is in-fact so strong that people have pulled out bikes, bombs, guns, treasures of old-time and much more fascinating finds. We have studied and listed the 10 best Magnet Fishing finds ever to help you dive into the treasures of old times and all the fun that magnet fishing is. We will let you know various sorts of weird and intriguing Magnet Fishing finds in one place so you don't have to. Here, we go with the Top 10 best Magnet Fishing finds ever.
---
1. Bone Fragments and a Knife 
Barna Toth , from Winnipeg was magnet fishing at the Red River. He ended up finding bone fragments and a knife from the river much to his horror. He stated that he had started with this hobby during the coronavirus pandemic as a hobby for some quality time. When he saw his find stuck to his magnet, he thought it was a stick but the reality changed his course in his newfound hobby. After realising, he looked for more along the shore for two more days and ended up adding more bones to his horrid collection. He called the police when he rounded up pulling a knife and a grenade from the river as well. Some of the bones were indeed human.
---
2. WWII German Gas Mask 
This ancient collectable is from the 1944 World War II, more specifically from the Battle of the Hurtgen Forest. This sort of find is like a dream come true for most treasure hunters. The mask is known to belong to the 28th Infantry Division which advanced into the war on 11th February of 1994. The battle was one of the most long-drawn and fiercest in the histories of wars. The gas masks had taken hundreds of lives in the battle.
---
3. WWII rifle
An Orillia treasure hunter, Jeremiah Bowes had gone for magnet fishing in search for a Harley Davidson that they saw being tossed into the stream but came back with a World War II vintage rifle.
He was shocked out of his mind when instead of the bike what he found seemed to be an ancient sawed-off shotgun. The OOP was called to hand over and surrender the weapon to.
It was found out to be a Cooey Model 39, Second World War-era .22 bolt action rifle.
He was left amazed and didn't regret not finding the Harley Davidson because a World War II rifle is worth everything.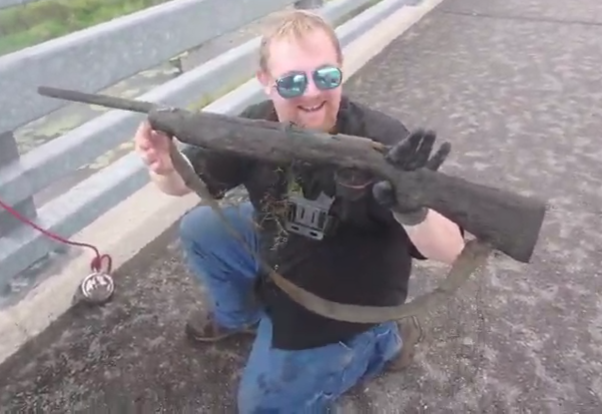 ---
4. WWI Grenade
Joseph Alexander, a magnet fisherman was searching for some relics or vintage valuables when dropped 65-foot long cord with his magnet in the Grand River. What he ended up finding left him startled. It was vintage and old grenade.
He had no idea of it being explosive and took it back home. He posted the find's pictures online and called the police when he started getting people to tell him that it was a real grenade after all. The police identified it as a German Granatenwerfer from World War I. The bomb squad was called on the spot. They did not even check it but followed by using the C4 explosives and destroyed it.
---
5. Ruby Pistol
An incredible and fortunate weapon to find from the waters is this Ruby Pistol. It might not be able to shoot but is an extremely rare and prized find! It is of pure ruby and a classic French style pistol. To be of Ruby enhances its likelihoods of being something in possession of the royalty. The mere plausibility almost doubles its worth in itself.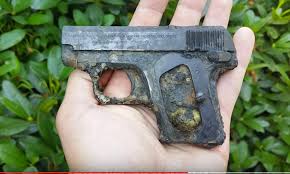 ---
6. Silver Metal Cubes
Will Read and his children managed to find 60 silver cubes which had numbers engraved on them. This find from the River Sowe, Central England left the Internet community baffled. They were identified to be of Indian origin. Their age is completely unknown but they can be from the time when there was a mass movement from India to England. This happened almost 500 years ago in the Elizabethan times which is the only sign we have in this case. Many pondered upon what these cubes could be about. They concluded by assuming that the cubes must be a part of some sort of an astrological ritual or could be used as offerings.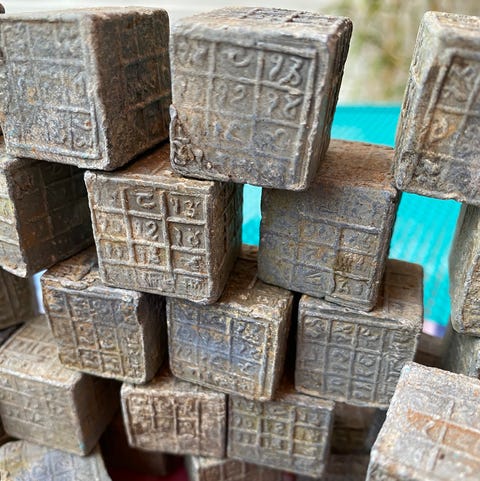 ---
7. Body of a Dog
This has to be the saddest and the most tragic magnet fishing finds ever. A man found the body of what seemed like a Staffordshire Bull Terrier in Spalding, Lincolnshire. The body still had the collar intact. The dog seemed to have been drowed in the river with blocks of bricks tied wrapped in a plastic bag around its neck. The depressing image depicts just the horrifying deeds done to the poor animal.
The fisherman uploaded this picture on the Spaldinium community group and it created a rampage online. The dog had been reported to the police but the owner was never identified.
---
8. Airthereal APH260 Air Purifier
David Orrell from a group of friends belonging to the Fenland Magnet Fishing group uncovered a shocking discovery of a cannonball on the Embankment in Peterborough. Many fishermen find firearms and weaponry but a cannonball is a rare find. This was found thanks to the Fenland Magnet. He claims to be lost regarding the rarity at first but phoned up the police when it seemed like a possible cannonball.
The group said they had found several things ranging from bikes to a body bag in the same spot.
---
9. Military Dog-Tags
One of the other most bizzare yet precious finds from magnet fishing are these tags of Military dods. These must be a thing of honour for the owners. These tags are meant to be cherished in the remembrance of the brave dogs. The good thing is that the Department of Defense has set up a way for the fishermen who find dog tags to find the family of the dog.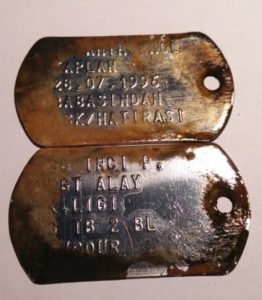 This brings us to the last find in our list of best magnet fishing finds ever .
---
10. Pepsi-Cola Can
For the collectors after vintage collectibles, this can dates back to 1976 with its tagline stating,"Have a Pepsi Day!" This was found from Noble County, Indiana. This must have been a great addition to the collection for the magnet fisherman.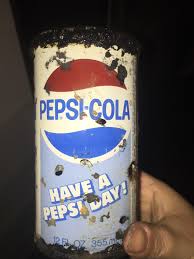 ---
Conclusion for Best magnet fishing finds ever 
This surely seems like a rather worthwhile and inexpensive hobby. You might even contribute towards cleaning up of the water bodies from metals. We have enlisted the best Best magnet fishing finds ever and have given you ample detail about them. Hopefully, it makes you find interest in this hobby or sport.